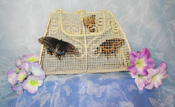 Helping you create the butterfly effect that you want is important to us, and we welcome the opportunity to bring your vision into reality.
We believe butterflies add a touch of elegance to any special event that only butterflies can create!
Our handcrafted, customized release cages are one of-a-kind creations. We make our cages out of sturdy, quality materials (not embroidery hoops), since we believe the cage should be as elegant as the butterflies and sturdy enough to use many times over again. Our cages and release envelopes are beautiful keepsakes that will remind you of your special day and will be treasured forever.
Flutterby Gardens is one of the older butterfly farms in the country, and we raise our beautiful butterflies all year-round.
We have the experience that counts in raising butterflies. For us, this is not a hobby. In order to best serve you, we are professional, full-time butterfly farmers nurturing life and creating dependable products.
Our experience makes the difference. We are not "middlemen" or brokers. We raise the butterflies we deliver. Because of this, we keep costs down and control exactly what is shipped.
We have raised and shipped thousands of butterflies and, therefore, have the experience to ship them so they arrive alive.
You can rely on us to know what we are doing and have been doing it for years. Our services and products have been designed to be customer-friendly as well as butterfly safe. With your order, we provide complete and easy instructions about the care of our butterflies. In addition, you can always call us if you have any questions.
You are going to love the experience. Here are several examples of how Flutterby Gardens can add to your enjoyment or memorial event:
Connie,
The butterflies were beautiful! And by far the talk of the wedding.
I had so many problems with my wedding -- like my wedding cake being wrecked, but no one noticed because we had butterfly cages as center pieces, and they were such a big hit EVERYONE wanted to know where I got butterflies from!
Even my dad who didn't want us to spend any money and have us get married in the court house said "the butterflies were the best idea and worth every penny."
Because we had Gatorade for the them to drink in the cages, the butterflies were not hungry and hung around for a little bit. They even let me hold them and pass them off to my 18 month old daughter, who was amazed by this bug she had never seen before. Every time one would fly away, she screamed with excitement and waved bye-bye to the butterfly.
I received my butterflies on a Friday morning and did not let them out of the envelopes un till Saturday at 5:00pm. Every one was alive and healthy.
Thank You Connie.
Erica and Dan C.
Dothan, Alabama
Hi Connie,
Happy New Year!
I just have to share with you how excited my niece, Delaney (who is 7), was when she received your Rearing Cage with monarch caterpillars inside at Christmas.
My family exchanges gifts between aunts, uncles, nieces, nephews and cousins on Christmas Eve. I started by giving her a children's book on the different stages of a butterfly and then presented her with the cage. She was absolutely fascinated! It seemed she was oblivious to everything else going on around her as she gazed into the cage.
Later in the evening she exclaimed "This is the best present I got all night! It's even better than the digital frame Grandpa got!"
I'll bet she's hooked! Thanks for all your suggestions, sharing and help with choosing her gift.
Sincerely,
Jeannine M.
Dear Connie,
Thank you from the bottom of my heart! The Butterflies were beautiful and the children were happy - they all flew away except one - which just wanted to be held by everyone and then she flew away too!
Thank you!!!!!
Silvia
Got them! She loved them! They were all really beautiful...
Linda

Constance,
They arrived on time and were the hit of the wedding ceremony.
Thank you for helping make our wedding special.
Virginia
Greetings Connie,
Just a quick note to thank you for your gracious loving care of the butterflies. It was an awesome sight and so many people complimented on the right touch since it represented the lost of the father of the groom who is now in heaven.
The butterflies hovered and circled over the ceremony three times and then departed….I suspect you will receive some calls and I gave them your number and address.
Thank you again!!!
Pastor John
Connie -
I just wanted to say thank you. Your butterfly made the day.
It was beautiful, I never saw such a beautiful butterfly in my life. My grandmother loved it. She kept the envelope and is going to make a scrapbook page out of it.
We decided to make it a tradition. Every August 5th we are going to release a butterfly at Florida's National Veteran Memorial Park in his name.
So you will be hearing from me again. Thank you again for everything.
Your services were wonderful.
Amy A.
Dear Connie,

Words cannot express the joy and the upliftment your butterflies brought to the hearts of everyone at my grandmothers funeral.

Their beauty and grace were beyond compare.

Also wanted to let you know that I will be featuring your site in my United Press International syndicated parenting column. I will send you a copy when it is complete.

Thank you again from the bottom of my heart. You work has blessed our family abundantly.

Sending you showers of peace and joy,
Debbie M.
Dear Connie,

I really enjoyed our visit to (Flutterby Gardens) on Friday afternoon. I learned so much about butterflies.

You are most informative and it is very apparent that you enjoy what you do. I am looking forward to working with you for our Ritual of Tears. Thank you so much for all your help. God bless you and your work.

Sincerely,

Edna D.
Dear Connie,
We opened the box and I couldn't believe what BEAUTIFUL work you had done personalizing the envelopes! YOU ARE TERRIFIC!!!! I gave the first butterfly to my daughter to give it to her grandfather with a big hug!
We made the butterflies his present, and it is especially meaningful for me to give him butterflies because for years now he doesn't want to get anything because he says he doesn't have space to have more things! ha ha...

And so this is a magical present!

After that, I also gave one butterfly to each of the kids with very clear instructions and help on how to hold them - they were absolutely fascinated. You should see their faces when they saw that there were live butterflies wiggling in there! Some adults got one too!

Then I read the American Indian Legend while EVERYONE listened ever so carefully! It was beautiful - the moment, the legend and the way you present it! I told everyone that it was A------'s and I----'s birthday, but that they ALL got to make a wish... so we sang Happy Birthday, blew out the candles and stepped outside - butterflies in hand for the magical release.
IT WAS BEAUTIFUL! And the fact that the butterflies were still chilled and wouldn't fly right away until they warmed up just made it better: The kids had a moment to admire each butterfly before it flew - some of them even had them on their hands. They were amazed!
And some of the parents told me they'd never forget this day.

I really have to thank you Connie, because it would not have been possible if it weren't for you. And I'm not saying that just because you sold them to me, but because buying from you was like working with a friend.
First of all, I called late. I didn't even know that this was possible - and after even sending out invitations, when I found out live butterflies are sold like this, I changed the party theme into ladybugs and butterflies. I tried to order them from the first sites I found on the internet - only to be heartbroken because they were sold out...

And THEN I found YOU!
You worked with me. You tried to fill my order, even if it was so late. Even if you had to mix the butterflies. Even if you had to figure out how to ship them under these conditions. You guided me through all of my questions - so many!
You followed up to make sure I could have them if I wanted this to happen... AND you did it with a wonderful, ever so positive attitude. Only two days away from the party, you personalized them to an extent only a family member would have done in so little time - you got the scanning of our napkins and cups - our theme - on Thursday for a party on Saturday, and made them into the decoration of the glassine envelopes for EACH butterfly and with my daughter's and father in law's name and age on EACH! I just couldn't even believe it!

Thanks for making my party so much more than a success... A magical event!
I will definitely recommend you, as a matter of fact I'll copy my closest friends and family this message! And feel free to use whatever part(s) of this letter you want in your website or any promotion you would like. YOU DESERVE IT!

Thanks a million! And may some butterflies be released to grant your wishes!
Have a great weekend!
Mabel R.